Click Here for: King Cake Flyer 2014
We have been truly blessed throughout these years since

"Operation We Care" started. Thanks to all who contributed, worked with us so tirelessly and prayed for us.

2012 Totals:

Postage------$29,829.25

Packages -------1,973 (including 322 pillows)

King Cakes ------1,000

TOTALS SINCE THE WAR BEGAN

Postage-----$198,667.38

Packages----20, 447 (including1,123 + pillows)
Here are the totals for Operation We Care from Brenda Ogden.

2011 packages sent-------1,546

pillows sent----------801

king cakes------------1,000

Since we began (2003)

packages sent----------17, 724

postage costs----------$168,838.13

Thanks to everyone for all your support and hard work helping to get this tremendous amount out to our precious troops. God Bless everyone involved. Please keep them in your prayers until they all come home.

Update - Wednesday, April 13, 2011
"Operation We Care" storage and packing operations have moved to Fort Knox Storage in Mandeville. Fort Knox is generously donating 2 large storage rooms. Packing day is regularly scheduled every month on the 2nd Wednesday at 8:30 AM.
This month on April 13 we prepared 248 care packages and 96 boxes of pillows. We continue to support our brave troops thanks to our committed volunteers and donations of product and cash from many local organizations, schools, churches and individuals.

Also this month: In recognition of their many years of service to our Veterans thru "Operation We Care", the membership of Robert H. Burns American Legion Post 16 in Covington is proud to present the new Louisiana "Support Our Veterans" license plate to Sheri Stephens (Founder), and Brenda Ogden (President).This new specialty plate gives everyone who owns a vehicle in Louisiana a way to show their support for our country's heroes.

Thursday, March 24, 2011 - Thank You for the Packages !
Several of us on board the USS Stockdale have received packages and this place was a buzz let me tell you. People were taking pictures of all the boxes we got. I have people that work for me that have not got mail since we left in November 2010. I know because I receive the mail for everyone. When we got the packages they were happy and truly grateful. I appreciate what you do in supporting us here. I know you don't have to do it and could use your time else where. It is people like you and your organization that keeps us going that we have a purpose and people are pushing for us. Again thank you for your time and your gift.

Zach Moran
"Operation We Care" October 21, 2009
On behalf of the U.S. Army, the Corps' Chief of Engineers Lt. Gen. Robert Van Antwerp present local community members with Freedom Team Salute Commendations Wednesday, October 21, 2009 at the U.S. Army Corps of Engineers, New Orleans District office.

The Freedom Team Salute is a Secretary of the Army and Chief of Staff of the Army program launched in 2005. This program exists to recognize the enduring bond between Soldiers, family, community, and veterans. It celebrates the sacrifices made by those who support America's Soldiers.

To recognize and show appreciation for the efforts of Operation We Care, New Orleans District Commander Col. Alvin Lee nominated the local Soldier-support group for the U.S. Army's Freedom Team Salute. As friends and family of local military personnel, these six men and women have dedicated themselves to making any Soldier's deployment a little more comfortable. Since first forming in 2003, Operation We Care has sent nearly 12,000 care packages to Soldiers in Afghanistan and Iraq.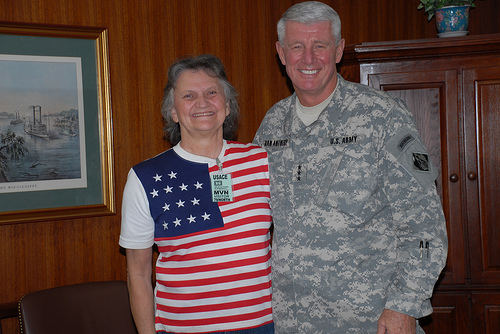 Brenda Ogden, President "Operation We Care" and member of American Legion Post 16 Auxiliary

HI; THIS IS AN UPDATE OF WHAT WE DID IN 2008


PACKAGES SENT ====1512

LETTERS SENT======1801

PACKAGES RETURNED===20

TOTAL PACKAGES SENT SINCE 2003=== 11,661

COST APPROX. THIS YEAR===$14, 817.60

GOD HAS BEEN GOOD TO US TO KEEP PROVIDING FOR OUR
TROOPS. WE ARE DOWN FROM LAST YEAR. BUT WE WILL

KEEP PRAYING. THANKS FOR ALL THE HELP FROM

EVERYONE.

MAY GOD BLESS YOU ALL.

BRENDA

Brenda Ogden
(985)-892-9700

Thank you for your letter and the recent package I recieved from Operation We Care. I enjoyed every item and was very touched by the care it takes to send such a care package. All of us here in Iraq appreciate you and everyone that supports all the men and women of the US Armed Forces. I am a Master Sergeant in the US Air Force, I am 34 and though I have 14 years of military service, I have never been gone at Christmas, I am spending this holiday season away from my wife Shannon and my Four children, Brianna 13, Stephen 11, Gregory Seven, and Christina 4. It is of course very dificult this time of year for all deployed service members, and what you and the other folks associated with this program make it a lot better for all of us. A special thank you to your family and all the folks at Operation We Care this holiday season.
MSgt Chris Dobbertin, USAF, Camp Taji Iraq.
Brenda Ogden, president of Operation We Care, shows her records to long-time volunteer Rick Sunders of American Legion Post 16, on June 1, at the organization's work site in Mandeville. Ogden keeps records of the e-mails she receives from U.S. service personnel, thanking her and also requesting items they need.
Ralph Gill, left, boxes up toiletries, as a volunteer for Operation We Care, in Mandeville on June 1. The items will be sent to U.S. service personnel serving overseas. Gill's son, Corp. Andrew Gill, is serving in Iraq, with the United States Marine Corps. Volunteers with Gill are Phyllis Knapp and Ralph Gill's other son, Luke Gill, a senior in the Mandeville High School Junior Marine Corps ROTC program.
Beth Welford of Ponchatoula, the secretary and treasurer of Operation We Care, places postage on a box headed for a service member stationed in Iraq or Afghanistan, on a work day June 1.

"Operation We Care"

PO Box 1306
Ponchatoula, Louisiana 70454
Brenda Ogden, President

985-892-9700

We are raising funds to send Care Packages to our Military fighting the War on Terror in Iraq and Afghanistan. We pack and ship from our storage location at 809 Florida St. in Mandeville the 2nd Wednesday of each month from to . The number of packages we can ship is limited by the amount of cash on hand to buy postage. This month we had 320 soldiers in our database but were only able to ship 80 boxes! Each package costs $9.80 to ship.

We always need Volunteers to help us pack!

Next Packing Day is: Wednesday,

July 9…See You There!
Date: Sun, 23 Mar 2008 06:41:10 -0700
Subject: Hello & Thank you very much...(Operation We Care)


Thank you very much for the packages..just got another recently very much appreciated!! Thanks to all who put these together. Well thought i had written guess not..I am 31 yr old father of four boys (two of my own) but that dont matter huh..Our boys age are 12,11,9,7. My family currently resides in germany awaiting once again for daddy's arrival back from a deployment(3rd time here). Im originally from South Dakota but grew up in Washington State..Wife is from Oregon. Joined the army in 2000..so yea been at it awhile..still have 3yrs on this current "contract"...lol. Oh im a truck driver in the army so deliver whatever needs a hauling or moved..yep it varies from cement parts, to vehicle parts, food, water, just whatever. Lets see..guess that sums up the better portion of things..Ah yes I have a fellow NCO (sergeant) and a soldier from the Louisiana area. My fellow NCO (daniel besson) is very much for the Saints and LSU
even from way over here!!..oh yea i am a sergeant E5..guess ya probably got that..well guess end here for now...ONCE AGAIN THANK YOU VERY MUCH FOR EVERYTHING..ITS ALL BEEN GREAT..oh yea i dont leave this place till november..we jump camps shortly but the mail will get forwarded they are very good at that..keep ya informed of things and such...so far we have all been safe..keeps the prayers coming for my fellow soldiers..Have a great Easter!!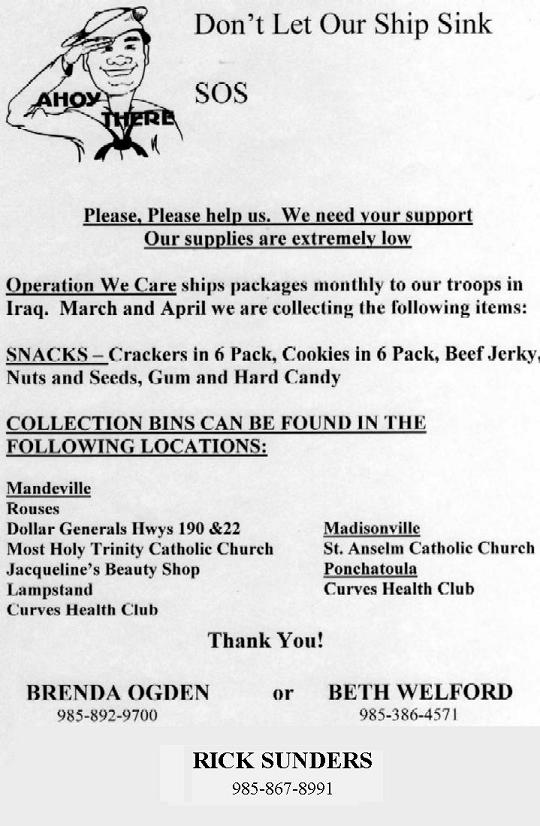 From: Brenda Ogden, "Operation We Care"
On March 6, Millie Fitzmorris, on behalf of the American Legion Auxiliary Unit 16, donated 60 "Aqua Cool" reusable body cooler scarves to "Operation We Care" for shipment to our Troops in Iraq and Afghanistan...Thanks, Auxiliary!

Robert DeBrock and Rick Sunders
"Operation We Care" Volunteers
Subject: Thank you
Date: Sun, 24 Feb 2008 22:13:12 +0300
From:
Lisa.Beckett@tlab.centaf.af.mil
Hi my name is SSgt Lisa Beckett,

You emailed about a month ago when I put my teams names in your website right before we left to come down range. We got our King cakes a few days after we got in country. And let me tell you I have not had king cake in FOREVER! And I enjoyed it so much. You had told me that you guys were going to be sending us something really cool but I never in a million years imaged that. Once the cake's and letter came I thought that was perfect, but then we got more in the mail today. I can't thank you guys enough for the support you give us. It amazes me that after 7 years of us coming over here to do our jobs, the love and care we receive makes our days 1,000 times better.

Now let me tell you a little bit about me. I have been in the Air Force for really my whole life. I'm a AF brat and spent most of my life just up the road from you in Mississippi. I joined the AF in 2000 so I have not been all that long. My husband is also active duty, he has been for 15 years now. He is a TSgt he is a fireman. We are both stationed in Ramstein Germany. The country is so beautiful. We have no children yet but we have only been married a couple of years. We are moving back to the states at the end of this year, hoping to make it back before the holidays for our families.

We that is enough about me. I thank you and your family so much. I wish you all the very best.


God bless you

SSgt Lisa Beckett
USAF


Feb 25, 2008
From: James Starks, USMC
To Brenda & all at " Operation We Care!"
I wanted to take time out to express my deepest sense of gratitude for your warm words and encouragement. I have been in the Marine Corps for over 25 years now and I will say that "your" commitment and unselfishness to adopt me as one to write to and send packaged goodies is truly inspiring!
I am the Food Service Officer for the 3rd Marine Air Craft Wing. I'm responsible for the feeding of all troops her in my area of responsibility that encompasses over 2/3rd of (over 30,000 Marines, Soldiers, and Sailors and DOD personnel). I love what I do, and I'm very honored and proud to serve my country! I'm presently on my 3rd tour over here as I was here for the initial war in 2001-2002, I came back for my second tour in 2005, and now I'm back for this current tour.
I know you are supporting me from afar and I appreciate it from the bottom of my heart, however, my wife is currently home alone during this deployment and she is going through the same separation, emotions as I am, though she is at home. Both of our families live in the Mid west. Though they do call, it would be nice if she could receive a letter now and again, it would mean so much to her and I. Many don't see or hear of the sacrifices of our families, as they support the home when we are forward deployed. My wife is now the man and the woman of the house. In my absence's she handles all of the financial issues as well as support our children. She also works a full time job. So I ask, if possible, if you could send her a note to let her know that she too is serving and sacrificing so others don't have to, it would mean the world to me. I do not want to break any rules in doing so, only if you are able and willing, if so the address is:
Kathleen A. Starks
765 Carmel Valley Rd., #208
San Diego, CA 92130
In closing, it is because of people like you, and all of the volunteers that give me the courage and drive to fight for the freedoms for all Americans. I am willing and prepared to give my life so that others can be safe and secure in the comforts of their dwellings. So I say thank you for taking time out of your life to express your thanks as it is because of Americans like you that I volunteered. May God Bless you all, and may God Bless the United States of America!

My name is PFC May currently stationed in South Baghdad Iraq, and I have received a couple letters from you and a few care packages as well most recently I received a King Cake from you which is absolutely delicous and I just wanted to say thanks for thinking of me and sending the packages and letters. It means alot to me and i'm greatful to you for taking the time to show you care about the troops.
Sincerely PFCMay E-Co 703 RD

BOY, DO THEY LOVE ALL OUR WORK AND KING CAKES. THANKS
TO ALL. PLEASE PASS THIS LETTER ON TO OTHERS AND MAYBE
WE CAN DRUM UP MORE SUPPORT....Brenda Ogden
My Louisiana Friends,

Thank you so very much for all the thoughtful packages you and your group have been sending to us here in Iraq! I have enjoyed your letters and goodies with much delight. It is difficult to thank you enough, truly.

You apparently know us quite well from SGT Michael Bone's providing information about us in 1-38 Infantry (Stryker). Coffee is, in fact, my favorite beverage and the Starbuck's coffee tastes wonderful over here, especially when packages with the love and support from the folks back home! You are all angels. The King Cakes made it here in just 6 days and taste deeeelicious! We are all enjoying them - boy do they go GREAT with coffee!

Being far from home really makes one appreciate the wonderful country we all love, and it is people like you that remind us what we are fighting for. Lord knows, it is hardly clear from this perspective, otherwise. It is very difficult, this situation we are in. The Iraqi culture is much, much different from our own and I for one am not convinced they, as a society, will ever truly understand the American way. A few individuals, certainly, but as a society - I have serious doubts. The love and concern that folks such as yourselves show your Soldiers, Sailors, Airmen and Marines demonstrates the most significant difference and that is concern for the well-being of others. The support you all give, whether you feel our mission here is a valid one, or have serious doubts, never sways.

Opposite from that, you all regularly take time away from your busy schedules to provide little slices of home for folks far away. People you've never met, but who you know are like you because we are Americans. And that is enough of a reason for you. We may be of a different race or religion, or from a different state, or have different political beliefs, but that does not matter to you. We are all Americans. You know we are here for you, and you recognize that, and in return are there for us. You are good Americans and good people.

Thank you again, for the wonderful love and support you provide. Whether you hear back regularly or not, believe me when I say it is truly appreciated by the soldiers of 1-38, and doubtless by the soldiers of the other battalions, as well.

God Bless you, and all our other Louisiana (and other American) Friends.

Sincerely,

David J Kersbergen, DO

MAJ, MC

Battalion Surgeon, 1-38 INF, 4/2 ID (Stryker)

(P.S. Shhhhh! Don't rub it in, but the Louisiana Friends have been the best so far

)

And, by the way (hint, hint, hint) I sure do love that Community Coffee dark roast from Ol' Louisiana

Take care. Happy Mardi Gras (is that what y'all say??)

Thanks to all Scouts, Leaders, Parents and Teachers for helping decorate "We Care" boxes which will soon be on their way to Iraq and Afghanistan to support our troops...on Friday, Feb 1, I collected 41 boxes from Johanna Howell filled with inspirational messages and great art...Please keep up the good work...These shipments are great morale builders for people who sacrifice far from home and whose primary mission is to keep us safe!

Yours in Scouting,
Rick Sunders (COR)

Cubmaster Note: This will be an ongoing project for the pack. We'll have more boxes at the pinewood Derby and scouts, parents, and siblings can decorate more boxes while they are waiting to race and during down time. Operation We Care sends these care packages out on a continues basis and any help we can provide to lift the spirits of those deployed is greatly appreciated. If you have boxes you decorated and did not get to Johanna Howell in time, bring them to the Pinewood Derby for turn-in.
YIS,
Tonie


Remember This War is NOT Over Until All of Our Men and Women Come Home!
This is not about politics - it doesn't matter if you like or dislike the President, agree or disagree with the war, our military has to do their job! And it's our duty,as FREE US Citizens, to help support our troops!

As of December 2007
we have sent over 10,000 care packages to our troops!
We are a group of Family and Friends of local Military personel and feel that we need to help make their deployment a little more comfortable in this 130 degree temperature plus environment!
We send them items that they have requested.

When we stand together, we can make a difference! This can't be done by one or just a few people but when you are united with your community - miracles happen!
People Want to Help - They Just Don't Know How! Reach Out and ASK, you'll be so surprised!

This type of Support Group is duplicable in every City, Town across the USA!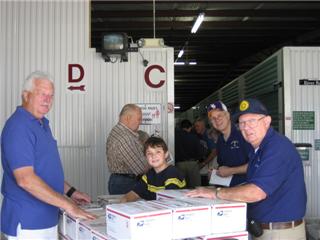 Letter Responses from our Troops
Friends,
Thank you so much for the wonderful gift box and the pillow. The
Soldiers here truly enjoy the thoughts and prayers and support from
people like you that take time to share a small touch of home. I will
truly cherish the "Shield of Faith". I have hung it on the wall as a
reminder that God is with all of us in our endeavors.

Thank You!

D. PATE FRESH
MAJ, OD
BN XO

"No Slack"

142D Combat Sustainment Support Battalion
LSA Adder, Iraq

DSN: 318-833-5055

daniel.fresh@us.army.mil
daniel.fresh@iraq.centcom.mil

SIPR
daniel.fresh@us.army.smil.mil
daniel.fresh@s-iraq.smil.mil



*************************************************************************
To my Louisiana Friends!

I am Lieutenant McElravy, I am a Platoon Leader currently leading a platoon in Afghanistan operating out of a Combat Operation Post in Yahya Khel Paktika. I have roughly 28 men in my platoon. Due to the high Insurgent Population and remoteness of our Area of Operations, we rarely get mail, so when we do, it is an awesome day! Today we received mail and with it were 3 of your Kings Cakes, we had received 3 a couple weeks ago as well, but I haven't had much time to get out e-mails. I can't tell you how awesome it was to get your cakes and the guys LOVE them. One of my soldiers is from New Orleans, so it was great to give him a little piece of home. Another one of my soldiers is from St. Louis which is also a big Mardi Gras city, and he too loved the Kings Cakes. I can't thank you enough for you support and your true care for the soldiers out here fighting on the front lines. I have some pictures of the guys enjoying the cakes and will try and upload and send them to you as soon as possible, also when a few of my soldiers return from leave we are going to take a platoon photo, and I will be sure to print and send one to you. Thank you again for your support, God Bless.

Very Respectfully,
LT McElravy
************************************************************************
Hey my name is CPL Donald Fontenot from Baton Rouge, La. I just wanna thank you on behalf of SSG Watts and the rest of the 259th MCT for the awesome king cake you sent us. It was awesome having something to help me and a few others relate to home and a new experience for the rest of them. I hope you have a happy Mardi Gras and have a blessed day.

Thanks for the smiles
p.s. our interpreter got the baby.

CPL Fontenot
259TH MCT
GEAUX TIGERS and WHO DAT!!!
************************************************************************
Dear Operation We Care,
We thank you so much for the (2) King Cakes you all sent us from Randazzo's. We loved every piece of it! My Marines were really appreciative of it and it went quickly. BTW, we still found the baby in the cake ;)
Sergeant Hamilton, N.D.
Comm King
Charlie Co. 1st CEB
Camp Dwyer, Afghan
VOSIP 359-6992
DSN 359-3308
"Se non sono in oltre la testa, come fai a sapere quanto sei alto?"
T.S. Eliot