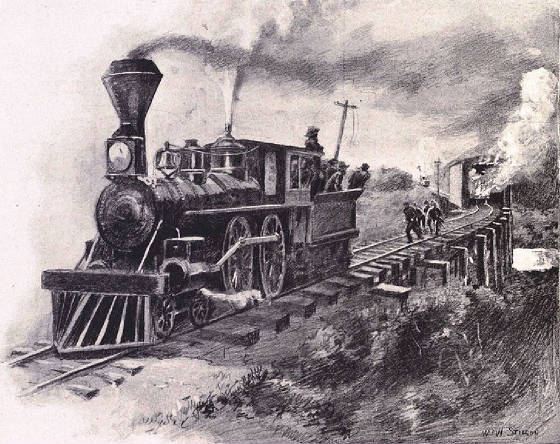 In case you have not read the following article in the April, May and June issue of the Georgia On Track, (or possibly you are not on the mailing list), so I thought you would be interested in this bit of good publicity for the Forty and Eight.
The Forty and Eight is happy and proud to have been asked to take part in a great celebration. On April 12-15, 2012 the city of Marietta. GA will be celebrating the sesquicentennial of the Great Locomotive Chase. This four day event will be packed with interesting activities. One side of the City Square will be blocked off where the city has asked Voiture 217 to park their train, (The Texas III and Mademoiselle Scarlet O'Hara) which will not only be on display but will also be used as the backdrop for a segment of the Television Show, Good Morning America as well as taking rides to the Southern Museum of Civil War and Locomotive History, in Kennesaw, where the Georgia Boxcar is housed. Set your VCR and record this bit of good publicity for the Forty and Eight.
I am sure most of you have heard of the Great Race. As a little background I am quoting an article in the Marietta Charlotte Observer newspaper: One hundred and fifty years ago on April 12,1862, a smuggler named James Andrews and a band of Union soldiers, subsequently called the "Andrews Raiders," infiltrated north Georgia and stole a steam engine called the General in order to thwart Confederate supply lines. They raced northward, cutting telegraph lines and even attempting to burn a bridge as they sped along in a Civil War scheme to open East Tennessee to the Union Army. William Fuller, the General's conductor, led a relentless chase of the thieves, first on foot, then by handcar and then by way of an engine called the Texas, which, seven hours later, caught up with the abandoned locomotive and captured a place in the history books. Marietta, Ga., where the chase began, is marking the sesquicentennial of this derring-do with a Great Locomotive Chase Weekend, April 12-15. The four-day event will feature a re-premiere of the 1956 Disney movie, "The Great Locomotive Chase. Other events of the weekend will include: Civil War Music Concert, Historic Marietta Trolley Tours, Homes and Heroes of the Civil War Exhibit, Texas III and Me Tour: From the rails to the road. Sounds like a great weekend to me.