From left, former Marines Mike Thornton and Ken Bourgeois cut wood to build a deck for fellow Marine George Schovanec, who fought in many battles in the Pacific Theater in World War II and was wounded in March 1945 at Iwo Jima. John Andrew Prime/The Times (John Andrew Prime/The Times)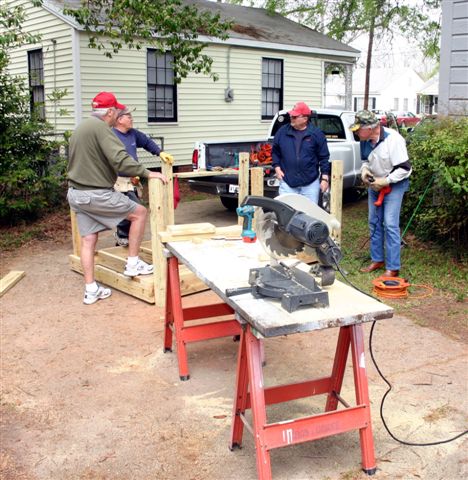 HARD AT WORK
Marines are known for their landings but usually leave the decks to sailors. Not so for local leathernecks who have joined forces to help out a comrade in need.

Members of the American Legion, the Marine Corps League, the Military Order of the Purple Heart and the Veterans of Foreign Wars are building a weatherproof, handicapped-accessible outdoor deck for George J. Schovanec, who fought his way across the Pacific in World War II until he was stopped by a bullet March 2, 1945, on Iwo Jima.


Retired Marine Col. Mike Thornton is the chief cutter and hammerer, and ramrods the crew.

"Mike's the closest thing we have to a SeaBee," joked retired Marine Maj. Ken Bourgeois, referring to the Naval Construction Battalions that do most of the service's heavy building.

Thornton designed the deck based on a standard model used in Minnesota, where there are heavy snows and loads placed on the wood. "They keep accusing me of overdesigning this."

The deck will have to support Schovanec, who will turn 83 in July, as well as his two dogs, Skipper and Jessica, and a motorized wheelchair he's waiting for the VA to deliver to his home on East McCormick Street in Shreveport's Madison Park-Waterside neighborhood.

Thornton said the VA would be getting the chair to Schovanec pretty fast. But when they learned it might take up to a year to get approval and funding for the deck, he and his fellow former Marines decided to take action.

Working with Thornton and Bourgeois are Jim Howard, David Gavin, Jim Canada and Mickey Stark. All except Canada are former Marines. Canada served in the Navy.

Thornton built numerous box support sections for the deck at home, hoping it would speed the work. But there are so many war stories passing around, "I'd say it'll be done by Christmas," offered Bobbie McMullan, a friend of Schovanec's watching the work in progress.

"I'm shooting for Thanksgiving," joked Thornton, who actually hope s the work will be finished in the next week or two. "You can be slow and methodical, or you can be fast and end up with crap."

Originally from New York, Schovanec enlisted at age 17 in August 1942. By July 1, 1943, he was in a foxhole on the Japanese-held island of Saipan "wondering if I'd ever see my 18th birthday, on July 3."

He did, and fought in campaigns across the Marianas and the Marshall Islands until he met the bullet with his name on it on Iwo Jima.

Schovanec was shot in the leg, but that's not why he needs the wheelchair. A recent medical condition led to it, he said. "I wasn't this way until about a year ago."

Now widowed with two grown daughters, he moved to Louisiana about 30 years ago, after meeting a lady from this state. "She shanghaied me to Louisiana," he said, laughing.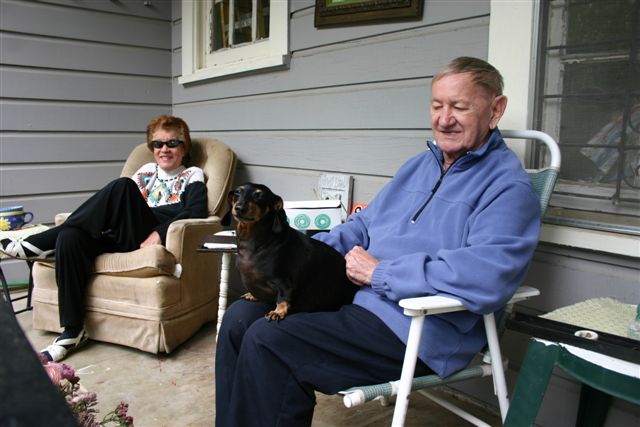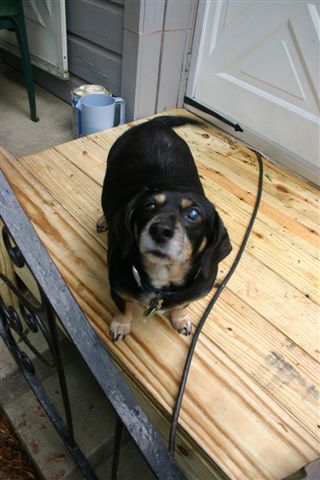 AND DOGGIE TOO !