Wounded veterans from the nation's wars got an unexpected bonus Thursday — a stretch of interstate highway to call their own.

The road is Interstate 20, from its junction with Interstate 49 in Shreveport to its meeting with Interstate 220 in Bossier City. And at each spot, white-on-green signs could be seen denoting the Purple Heart Recipients Highway.

Dignitaries, wounded veterans from World War II, Korea and Vietnam and representatives of Barksdale Air Force Base gathered at the Bossier-Caddo Veterans Memorial to make the dedication.

Richard Garner, commander of Chapter 351 of the Military Order of the Purple Heart, led ceremonies with state Rep. Jane Smith, whom he approached to help get the name designation through the Louisiana Legislature.

"These are the men and women who have stood in harm's way through past wars and in wars that are happening today," Garner told a crowd that included retired Army Maj. Ron Chatelain, the state's most-decorated soldier with five Purple Hearts and the Distinguished Service Cross, among other awards.

"The Purple Heart is certainly not a medal any of these guys cherished; they did not want that medal. But after they receive that medal, they become a member of a band of brothers and sisters who share one thing in common: They know that freedom isn't free."

Most of the dozen or so wounded veterans, wearing campaign hats showing them to be members of the Military Order of the Purple Heart, were from the nation's past wars.

One was Willie Curry, who served in the Army until he was wounded in the Vietnam War.

"I think this is a great idea, and long overdue. It should be done more often."

One wounded veteran from the war on terror would have been there, but he's recuperating at home the next few weeks before he returns to an Army hospital in Texas.

Army Spc. Ryan Holley, part of the 2nd Stryker Brigade, was shot in the side Sept. 4 in Iraq. He was represented Thursday by his parents, Mark and Cheri Holley.

"He's got three more years left in his commitment," Mark Holley said of his son, a 2005 graduate of Evangel Christian Academy. "He's determined to go back to Iraq."

The Shreveport sign is near where traffic enters I-20 from Linwood Avenue, near the I-49 interchange, while the Bossier City sign is just west of the I-220 interchange, said state Department of Transportation and Development representative Keith Tindell.

"We did it like that because of the ramps, so people coming onto I-220 would also know the highway designation, to maximize the number of people seeing it," Tindell said.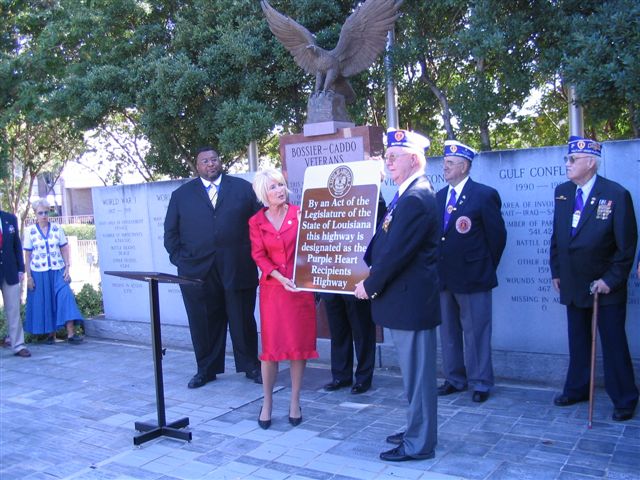 Glover, Jane, Richard, Eames and Larrieau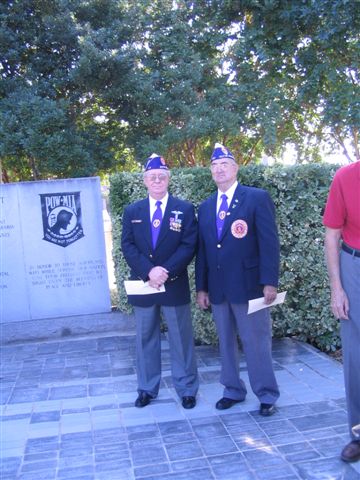 Richard Garner and James Eames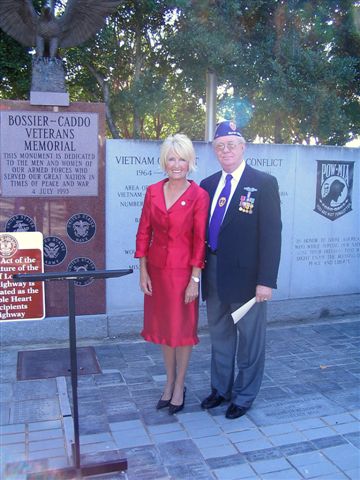 Jane and Richard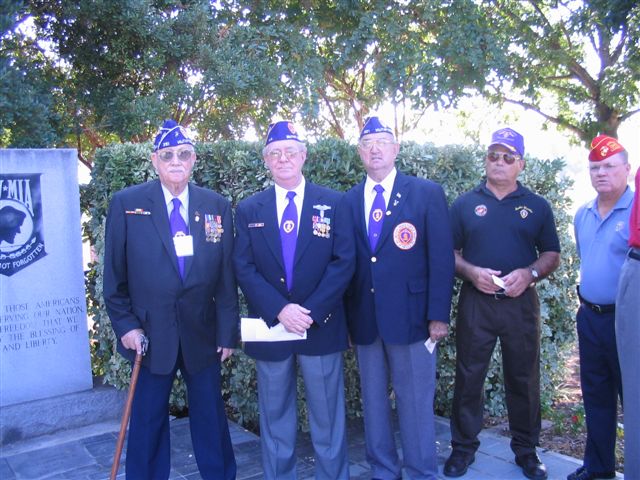 Larreiau, Richard, James, Mickey and Mike
Lunsfords and Ken Bourgeois w/ Ladies Auxiliary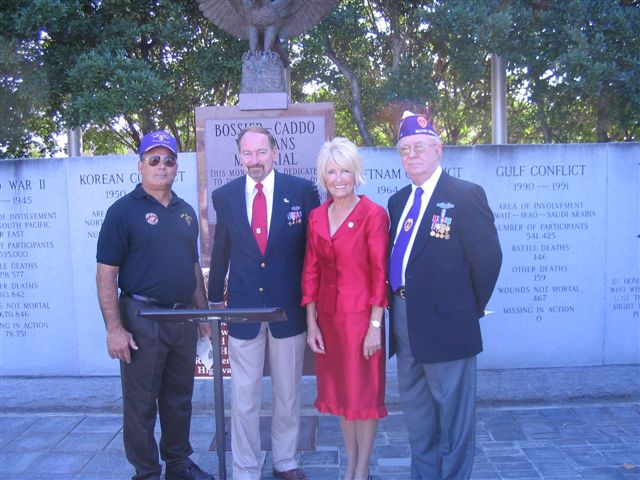 Mickey, Ron, Jane and Richard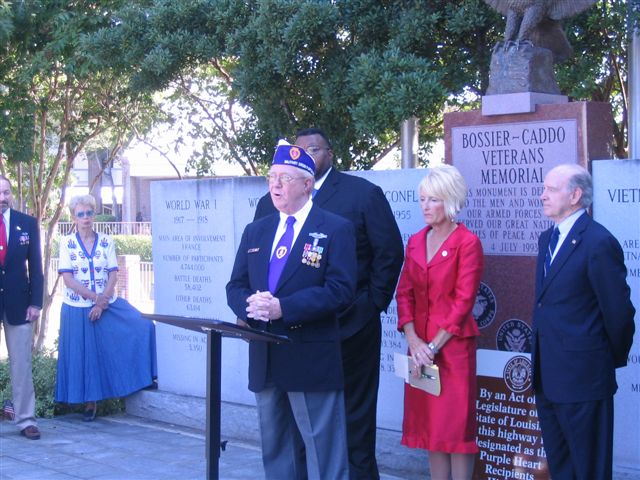 Richard, Jane and Mayors Walker and Glover