Harahan veteran of D-Day receives Legion of Merit, France's top honor

by Michelle Hunter, The Times-Picayune

Wednesday July 15, 2009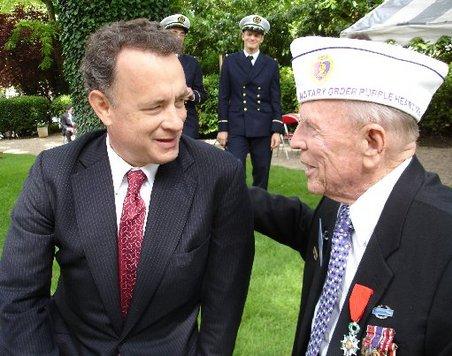 (Courtesy of J.J. Witmeyer) Actor Tom Hanks talks with D-Day veteran J.J. Witmeyer of Harahan after a ceremony in which Witmeyer received France's Legion of Honor medal.

With two Purple Hearts, four Bronze Stars, two Presidential Unit citations, a European Campaign medal, a Combat Infantryman's badge and scores of other military decorations to his name, World War II veteran J.J. Witmeyer Jr. had already seen his fair share of pomp and pageantry.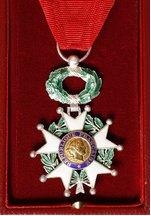 Kathy Anderson/The Times-PicayuneThe French Legion of Honor medal that was given to J.J. Witmeyer.

But even the 89-year-old Harahan resident was awed by the grand ceremony, reception and appreciation he received last month when he was appointed a member of the French Legion of Honor. Witmeyer was one of 75 recipients of France's highest award, which was bestowed in Paris on June 5, the day before the 65th anniversary of the D-Day landings in Normandy.

"I've never seen anything like this for anybody, a ceremony of such prominence," said Witmeyer, who landed on Utah Beach with the Army as part of the Allied invasion force that helped liberate France and end the war.

Harahan officials plan to honor Witmeyer's achievement Thursday night during the monthly City Council meeting.

As Witmeyer sat in a recliner at his home Wednesday morning, he felt the hairs on the back of his neck stand on end while recalling the sound of the "Star Spangled Banner" reverberating last month through the cobblestone courtyard of Paris' Museum of the Army, a few hundred feet from Napoleon's tomb. After receiving the medal, Witmeyer said he accepted congratulations and cheek kisses from attendees, including former U.S. Sen. Bob Dole, himself a combat veteran, and actor Tom Hanks and high-ranking military officials.

"I've seen admirals, but I've never had them kiss me. I've seen generals, generals with five stars, but I've never had them kiss me," he chuckled.

The next day, Witmeyer stood with the likes of President Barack Obama, Prince Charles of Britain, French President Nicolas Sarkozy and British Prime Minister Gordon Brown in Normandy for the D-Day commemoration.
(Courtesy of J.J. Witmeyer) J.J. Witmeyer in his military days. But the red-carpet treatment didn't end with the ceremony. In France, receiving the Legion on Honor is no small affair. As he toured various battle sites while wearing his medal, Witmeyer said, French citizens stopped him to offer thanks and congratulations or to shake his hand. "You couldn't go in a place. You'd draw a crowd. That's how much significance they place on this award," he said. "You begin to expect that people were going to recognize this was an American solider that helped liberate our country." Witmeyer particularly recalled one resident from La Haye du Puits, where his 314th Infantry Regiment waged a fierce battle against German troops. He had met the man a few years earlier on a previous visit to France.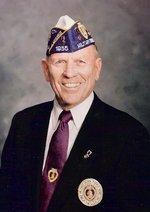 J.J. Witmeyer today.

But this time when the man heard Witmeyer was going to receive the Legion of Honor, he drove 500 miles to deliver a gift: a French flag signed "Mr. J.J. Witmeyer. Grace a vous, Je suis un home libre. Merci. -- Thanks to you, I am now a free man. Thank you."

As the two parted, Witmeyer said, tears streamed down the man's face and dripped from his chin.

"This was not because of my charm," Witmeyer said. "It was because I was a hero to him because of what the American Army and the Allies did to liberate his town."
. . . . . . .